Evaluate ERP Systems Across 5 Key Categories
If you're shopping for a new ERP system, there's a ton of information out there to help you—but that's not entirely a good thing. Many ERP evaluation processes get bogged down with information overload, leaving decision-makers frustrated and confused.
That's why we designed a tool to help you focus on what really matters.
Our ERP comparison checklist empowers you to make your decision based on the features and benefits that are most important to your organization.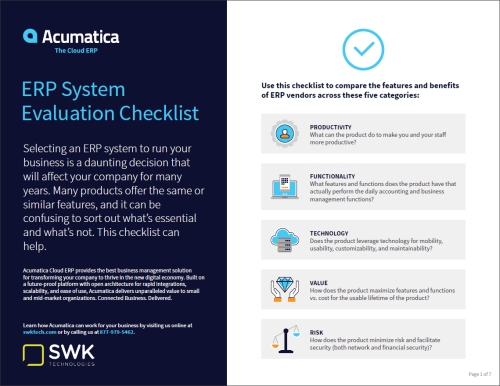 In "ERP System Evaluation Checklist" you can:
Don't waste your time and energy evaluating ERP platforms that can't meet your needs.
Download your free copy of this checklist today.
Fill out the form to download the ERP System Evaluation Checklist
HOW CAN WE HELP YOU?
SWK Technologies is a business application and consulting company providing strategies and solutions to meet our clients' information and business management needs. We make technology work for you, and provide the experience and expertise to get the job done by working with both your needs and the business management software that actually support your ways of doing business.