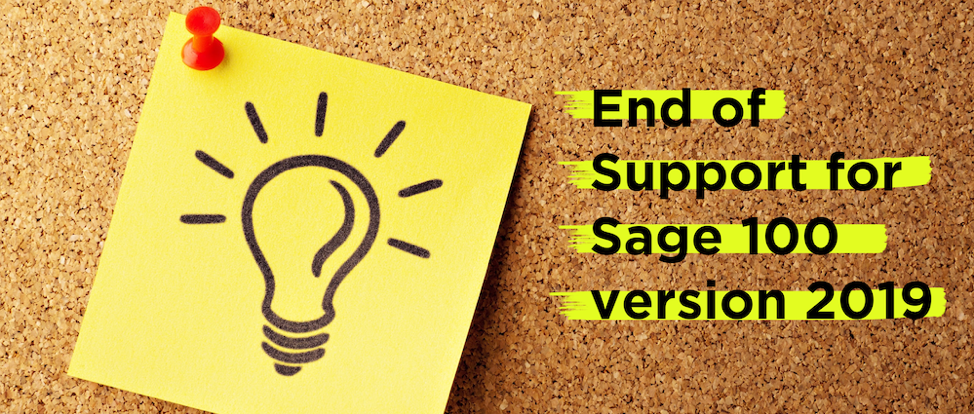 Get Clear Answers About EOS for Sage 100 v2017 & Sage 100 v2019
Sage 100 2022 is here and, according to Sage's product lifecycle, that means we have reached the End of Support (EOS) for Sage 100 version 2019.
"End of Support" (AKA "End of Life" or "EOL") can be a confusing term and we want to make sure you understand your options. Let's talk about what this term means, how it affects your Sage 100 solutions, and what you should do next.
What Does It Mean When We Say, "End of Support for Sage 100 version 2019" & "End of Support for Sage 100 version 2017"?
End of Support is when a software vendor decides to stop supporting a product because they have released a more updated version. Though definitions of exactly what happens at EOS differ from vendor to vendor, typically you can expect that:
The vendor will NOT return support request phone calls for that product
The vendor will NOT research new bugs or issues for that product
The vendor will NOT release new product updates or hotfixes for that product
In short: Although your ERP will still function normally after End of Support for Sage 100 version 2019 and version 2017, the vendor (Sage) will no longer improve the product or help you solve issues with your ERP. (They may, at their discretion, release new updates or hotfixes.)
How Does Sage's End of Support Policy Work?
Sage generally follows a predictable End of Support policy, in which they stop supporting older versions after 3 years.
Here are the last few End of Support dates:
End of Support for Sage 100 version 2017 was September 2020 (extended from March 2020)
End of Support for Sage 100 version 2018 was April 2021
End of Support for Sage 100 version 2019 was April 2022
The official End of Support date coincides precisely with the release date of the newest version of Sage 100, which happens in March or April of each year.
End of Support for Sage 100 2020 will be when Sage releases Sage 100 2023
End of Support for Sage 100 2021 will be when Sage releases Sage 100 2024
End of Support for Sage 100 2022 will be when Sage releases Sage 100 2025
What Should You Do Next?
EOS can sound worrisome, but it should not cause stress in your life. If End of Support for Sage 100 version 2019 or End of Support for Sage 100 version 2017 impacts your business, you have options.
NOTE: SWK Technologies, Inc. will continue to offer support for all versions of Sage 100 v2013 and up. If you are still on a version of Sage 100 earlier than v2013, please speak to your account manager about updating ASAP if you are an SWK customer. If you are not a SWK customer but wish to upgrade to a newer version of Sage 100 that has not reached EOS and is still supported by Sage, please contact us at info@swktech.com.
Although End of Support means that the vendor (Sage) will no longer return phone calls or provide help or updates for that version, you can always trust your SWK team to take care of you.
If your ERP has reached End of Support, here are your next steps:
Pay extra attention to your cybersecurity
The biggest risk with software that has reached End of Support is that new product updates will not be released. This can leave your business's financial software vulnerable to cyberattacks. Learn about SWK's cybersecurity services for Sage 100.
Create your plan for upgrading
Ideally, you should upgrade annually but sometimes that is not possible because you do not have time or your customizations and third-party add-ons are still awaiting updates to the newer Sage versions. To overcome these challenges, make a firm commitment to your business that you will upgrade at least every 2 years.
Start researching your upgrade options
Sage is always working hard to enhance and optimize the Sage 100 experience, which is why it is worth your time to look into what each new version offers in terms of flexibility, usability, and time-savings. Set up a chat with your Customer Account Manager for a personalized walkthrough of the newest features relevant to your needs.
Call SWK for support when you need it
Experiencing an unexpected glitch or don't have time to troubleshoot all those questions from your new hire? SWK Tech will provide the support you need for these and other issues, for as long as you have your Sage 100 solution. Request support.
Start Your Research. Look Into Sage 100 v2022 Today. 
Sage 100 2022 contains new enhancements and functions optimized to help you and your staff work smarter every day. Not only does this version contain quite a few exciting updates, it is fully up to date. Up-to-date software reduces your headaches and makes it easier for you to streamline your daily activities.
Contact SWK today

 to see what it takes to upgrade to Sage 100 2022.
For more than 30 years, SWK Technologies has been helping SMBs get more out of their mission-critical technology with targeted, smart solutions that make it easier to handle financials and make faster, better business decisions. Curious to learn more? We are always happy to introduce you to the options that can help you increase agility and drive business performance. Get in touch using the form below. We will get back to you soon!
Talk to the financial software experts at SWK