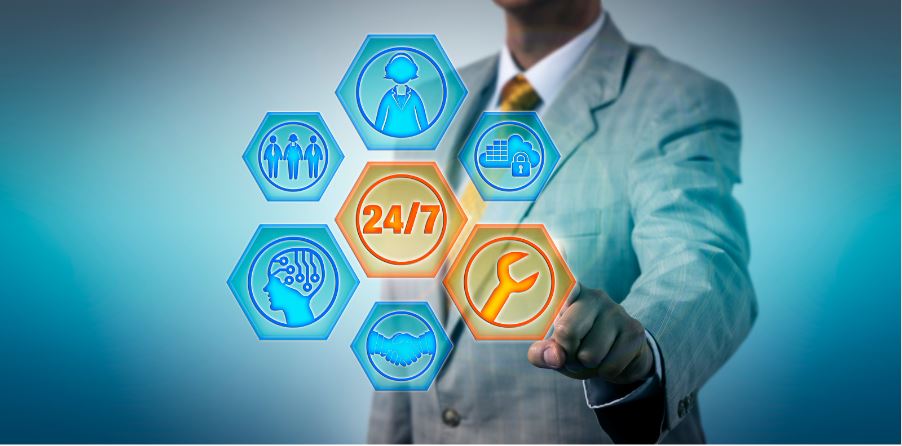 In the digital age, technology plays a pivotal role in businesses of all sizes. From managing overarching daily operations to communicating with specific clients and customers, technology has become a keystone in the day-to-day work life. However, staying on top of this crucial element can be a complex and time-consuming task that requires specialized knowledge and expertise, something you may not have access to. This is where managed IT services come in.
What are Managed IT services?
Managed IT services are a type of outsourcing that involves contracting a third-party provider, like SWK, which can either support your internal IT team or fully support your business if you do not have an IT team depending on your company's needs. These services can be fully managed or co-managed, meaning that businesses can choose the level of support they need to operate at their highest capacity. With SWK, you don't need to have a fully outsourced team to gain benefits.
Adding Value to your Team
One key benefit of utilizing managed IT services is the increased value they bring to an organization's IT team. By outsourcing routine tasks and maintenance work to a third-party provider, businesses can free up important internal resources. With these time-consuming yet necessary tasks out of the way, your team will be able to focus on key business objectives which might have lagged behind if not for the additional support managed IT services provide.
Improved Security
Managed IT service providers (MSPs) also use the latest security tools and strategies to protect businesses from cybercriminals. As time goes on, hackers continue to maintain an increasing frequency and complexity of cyber-attacks, meaning that a company must remain vigilant to keep its network secure. Especially for small and medium sized businesses (SMBs), modern security tools can be a burden on their budget, but by using an MSP you have these protections for a fraction of the cost. Your business won't have to worry about implementing modern security protocols, performing regular audits, and equipping employees with necessary cyber awareness training as MSPs will have you covered for an affordable price.
Cost Savings
Another significant benefit of managed IT services is its cost savings and affordability. Hiring a full-time IT professional can be expensive and unpredictable, especially for small to medium sized businesses. With an MSP, you can have a team of experts at your disposal with full access to state-of-the-art cybersecurity tools for less than the cost of an internal IT member. Additionally, the cost of managed IT services is routine and predictable, making budgeting all the easier when planning out costs. At the end of the day, the money saved by switching to managed IT services can be put into more pressing areas of your business.
Expert Knowledge
In addition to cost savings, managed IT services also offer access to expert knowledge, something proven to be valuable with the shortage of IT talent. No one person can know it all, and MSPs typically have a team of professionals with different areas of expertise. With a combination of experts in cybersecurity and compliance standards, an MSP provides you with a diverse team that pools their collective knowledge together and help your business succeed. Don't worry, these experts won't replace your IT team- but will provide necessary guidance and support to bolster your company's effectiveness.
Compliance
Most industries have specific standards and regulations that businesses must adhere to, and failing to do so can result in fines or legal trouble, but managed IT services can help. By implementing security protocols, performing regular audits, and providing employee training SWK can make sure your business stays ahead of the curve and maintains industry compliance.
Contact Us and Find What Is the Best Fit for You
Managed IT services offer businesses a range of benefits, including cost savings, improved security, access to expert knowledge, and better compliance with industry regulations. Whether you opt for fully managed or co-managed services, contact SWK today and find out what solution fits your company best.