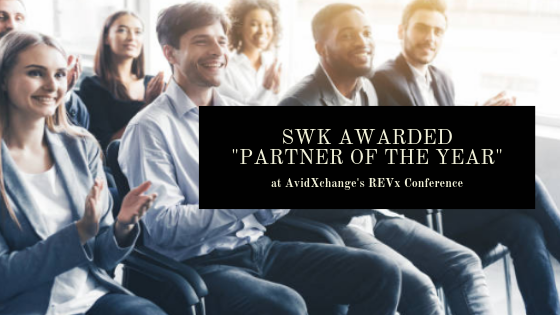 EAST HANOVER, NJ, May 17, 2019 – SWK Technologies, Inc. (SWK), a provider of transformational technology solutions, was named VAR Partner of the Year by AvidXchange, the world leader in payment automation solutions, at the third annual Partner Connect and REVx Users' Conference in Huntington Beach, CA.
This is the third year in a row for AvidXchange's Partner Awards celebration, which recognizes solution and integration partners for their contributions to the AvidXchange ecosystem and community. Partners are nominated based on their commitment to achieving sales and marketing goals, demonstrating AvidXchange's core values on enabling customer success and contributing to innovation in the industry.
"SWK's partnership with AvidXchange, which includes being the exclusive Sage 100 integration provider for the AvidXchange user community, enables our customers to connect their business management technology and Accounts Payables processes seamlessly," said Andrew Nunez, Chief Sales Officer at SWK Technologies. "We're delighted to be recognized for our achievements in this channel and look forward to continuing to enable customer success together with AvidXchange."
SWK is a longtime AvidXchange Partner and technology solution provider that allows businesses to achieve success through automation. SWK's close relationship with AvidXchange has allowed development of custom integrations for ERP payment automation, including for Sage 100 users seeking to facilitate more complex AP processes through their Sage system.
About SWK Technologies, Inc.
SWK Technologies, Inc. (www.swktech.com) delights its customers and partners by providing solutions and expertise that transform their businesses and enable success. SWK's Strategic Technology Advisory Team (STAT) provides business management consulting services that help maximize value derived from technology investments. SWK Network Services is a managed network service provider that delivers IT infrastructure management and training, as well as business continuity, penetration testing and data protection solutions. Business Application Cloud Hosting (BACH) is a secure cloud hosting service that supports SWK Technologies' ERP, CRM, WMS, and other software solutions. SWK's parent company, SilverSun Technologies, Inc., is publicly traded (NASDAQ: SSNT).
About AvidXchange™
Founded in the year 2000, AvidXchange transforms the way companies pay their bills. Trusted by more than 5,500 customers throughout North America, AvidXchange is the industry leader in automating invoice and payment processes across the real estate, HOA, construction, and healthcare industries. AvidXchange is distinguished as a global fintech unicorn and one of the fastest growing technology companies in the U.S., offering a complete solution designed to help mid-market businesses modernize operations and embrace the future of finance. For more information, visit www.AvidXchange.com.
Media Contact:
Antonio Carrion
SWK Technologies, Inc.
(973) 396-1747
antonio.carrion@swktech.com