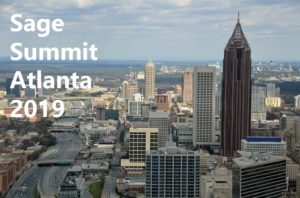 Sage Software is bringing back Sage Summit with events on both the East and West Coasts. Sage Summit San Diego was held February 13-15, while Sage Summit Atlanta will be held May 13-15.
Sage Summit Atlanta
Sage Summit Atlanta will be held at Hyatt Regency Atlanta on 265 Peachtree St NE Atlanta, GA. Discounted room rates are available for Summit attendees. May 13 will consist of registration from 3:00 – 6:00 PM and a Welcome Reception from 5:00 – 8:00 PM.
Sessions will begin May 14 after additional registration, breakfast and a product showcase from 7:30 – 9:00 AM and a keynote address from Sage EVP & Managing Director of Sage North America, Nancy Harris from 9:00 – 10:30 AM. Presentations for Small and Medium Businesses, Partners, and Thought and Industry Leadership will be held throughout the day from 10:45 AM – 4:30 PM on Sage 100cloud tips and tricks, out of state sales tax requirements, and more. The day will end with a product showcase reception from 4:30 – 6:00 PM.
Sage Summit Atlanta will continue May 15 with registration and breakfast again from 7:30 – 9:00 AM, followed by a panel discussion from 9:00 – 10:00 AM. Sessions will begin earlier at 10:15 AM and will continue to 12:00 PM. Topics will expand further on products such as Sage 50cloud, Sage 500 and Sage HRMS, as well as cover thought leadership on items such as business growth. Closing statements will be held 12:15 – 12:30 PM and the Summit will end after lunch and a final product showcase from 12:30 – 1:30 PM.
Click here to register for Sage Summit Atlanta – Early Bird registrants get a $100* discount
*rates apply per individual registrant only