Sage X3 (Sage ERP X3)
Sage X3 (formerly Sage ERP X3) offers your business greater productivity, a simplified installation process, and fully integrated Cloud services. Enhancements include Electronic Document Management (EDM), Fixed Asset functionality, and time-saving efficiencies for your financial, sales, and inventory management.
There are three critical competencies that every business must possess to manage growth, reduce costs, and better serve their customers.
Only Sage X3 enables you to completely deliver on all three, providing the most comprehensive business management solution for mid-sized businesses. Let us show you how Sage X3 can enable you to manage your business growth in a fundamentally more efficient manner while reducing costs, delighting your customers, and outmaneuvering the competition.
Learn about features, request a demo, or get a quote for Sage X3.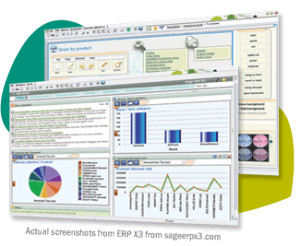 Visibility – better decisions
Sage X3 provides a clear view of your business operations - emboldening business leaders to focus on exceptions, accurately evaluate risks, and make faster decisions.
For most businesses, critical information, insight, and indicators are scattered about in spreadsheets, systems, and databases. In some cases, employees themselves become gatekeepers of information others need, which can cause bottlenecks. Sound familiar? Sage X3 solves these common challenges by compiling data in real time and providing tools such as user-defined dashboards, business analysis tools and reports, and automated workflows and alerts that drive effective and rapid decision making.
Velocity – keep pace with market demands
Sage X3 provides a better, faster way to manage all your critical business functions by automating workflow and enabling you to improve productivity in ways only best-in-class solutions can.
The powerful process automation and management capabilities of Sage X3 adapt to your needs, creating a natural flow of work both within the organization and with partners. By connecting your business, you can manage its growth more effectively, control your bottom line, keep up with demand, get to market quickly, and continue to delight your customers.
Simplicity – eliminate unnecessary work and waste
Sage X3 (formerly Sage ERP X3) tames the complexity of doing business by streamlining collaboration across all business operations and enabling employees to rapidly address any challenges that may arise. Put quite simply, Sage X3 delivers more of what you need: performance, insights, and scalability -- and less of what you don't: complexity, tricky customizations, and high overhead costs.
Fine-Tuned for Your Industry
Chemical
Food and Beverage
Hard Goods
Life Sciences
Wholesale / Distribution
Where to Buy Sage X3
Contact us. Find out how you can purchase and install Sage X3 for your business.
Data is the backbone of your most important business decision. If your data is inaccurate, hard to use, or not accessible on the go, your outcomes pay the price. Highly effective enterprise resource planning (ERP) systems that provide smarter, more usable information can significantly improve profitability, revenue growth, inventory management, and productivity.