SAGE X3 V12 FOR WHOLESALE DISTRIBUTORS – WHAT'S CHANGING?
Sage X3 V12 is here.
Get the eBook for an insider's view on what you can expect if you're considering Sage X3 V12 for wholesale distribution.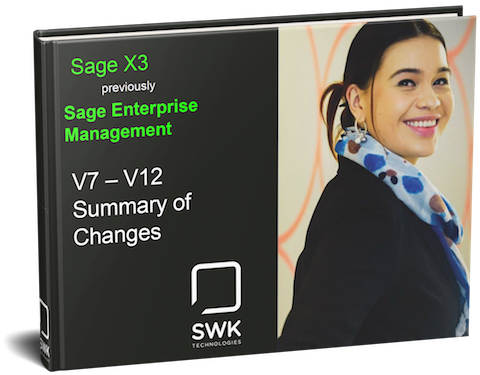 Sage X3 V12 provides you with a faster, simpler, and more flexible way to run your distribution company, with newly added features and functionality for:
Sage X3 V12 delivers extraordinary, robust capabilities for the wholesale distribution industry. Its cohesive solution helps you manage functionality for landed cost calculations, stock valuation, mobile-based validations, license plate tracking, and a multitude of other critical supply chain tasks.
Get all the version upgrade details with the free eBook from SWK. Download the Sage X3 V7-V12 Summary of Changes eBook.
Fill out the form to download the Sage X3 V7-V12 Summary of Changes eBook!
HOW CAN WE HELP YOU?
SWK Technologies is a business application and consulting company providing strategies and solutions to meet our clients' information and business management needs. We make technology work for you, and provide the experience and expertise to get the job done by working with both your needs and the business management software that actually support your ways of doing business.