Trading from Home: Business Resilience Guide eBook
Improving data, security, communications, and productivity for work-from-home brokers and traders.
Do you feel confident in your ability operate in a work from home environment for the next several months (or longer)?
It's a bold new world – living through hyper-perpetual change, people everywhere have been forced to adjust to digital transformation. Regardless of where you stood before, the pandemic forced us all to look at our tools differently, and exponentially increased the value of data.
For those of you in the Financial Services industry you're managing trades and assets for your clients, trying to keep up in a world where transactions move at the speed of light. The work from home environment adds new pain points and new risks, especially when it comes to data management, cybersecurity, and compliance with regulations for personal and financial client information.
This in-depth Business Resilience Guide provides valuable insight on how you can be better prepared to face crises and challenges. Download the eBook to learn more about these topics: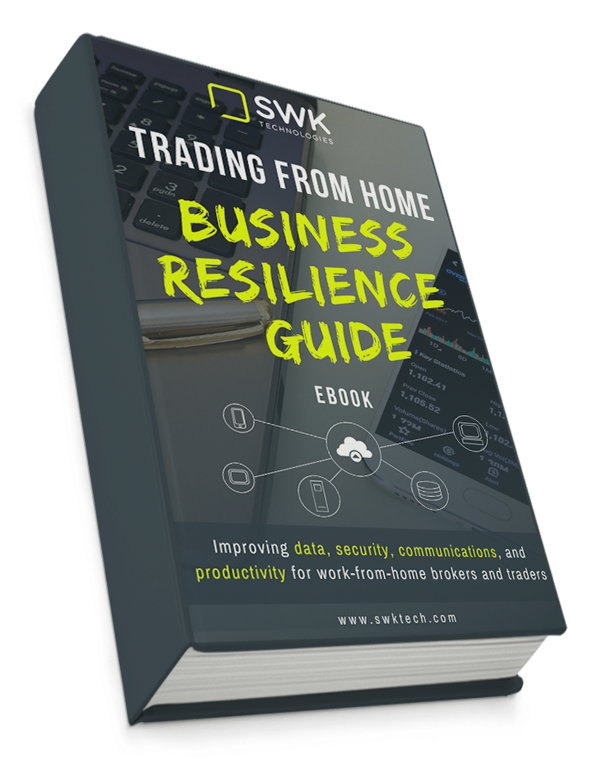 HOW CAN WE HELP YOU?
SWK Technologies makes it easier and safer for you to run your business. We do this by helping you select and implement software and technology solutions that make your business run more efficiently, grow revenue, improve supply chain, secure data, and improve customer experiences.  
We're a software and technology provider partner to over 6,000 small, mid-sized, and small enterprise businesses across the U.S. We help our customers thrive through managed IT services, cloud hosting, and right-sized, cybersecurity-backed solutions such as ERP, accounting, finance, and integrated automation software.