SAGE X3 FOR DISTRIBUTORS – CAN IT OUTPERFORM YOUR CURRENT ERP?
The race is on for market share. Can your system keep up?
Read the white paper to find out how today's leading distributors are pulling ahead with a system that helps them streamline operations and improve accuracy.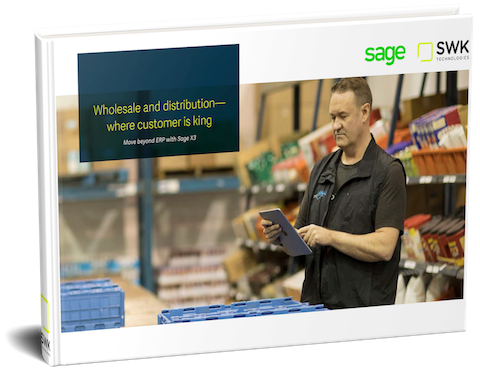 Today's leading distributors don't have time to be held back by their current ERP. That's why they use Sage X3, independently verified as one of the leading ERP solutions for wholesale distributors.
Get the facts in this 100% free white paper, so you can:
See for yourself how Sage X3 can help you increase customer satisfaction, overcome tough competition, and resolve time-consuming technical issues. Download the free Sage X3 white paper, "Where Customer Is King".
Fill out the form to download the "Where Customer Is King" white paper!
HOW CAN WE HELP YOU?
SWK Technologies is a business application and consulting company providing strategies and solutions to meet our clients' information and business management needs. We make technology work for you, and provide the experience and expertise to get the job done by working with both your needs and the business management software that actually support your ways of doing business.