Food Safety & Traceability Software
Download Product Brochure
Learn Software Features & Capabilities of Sage X3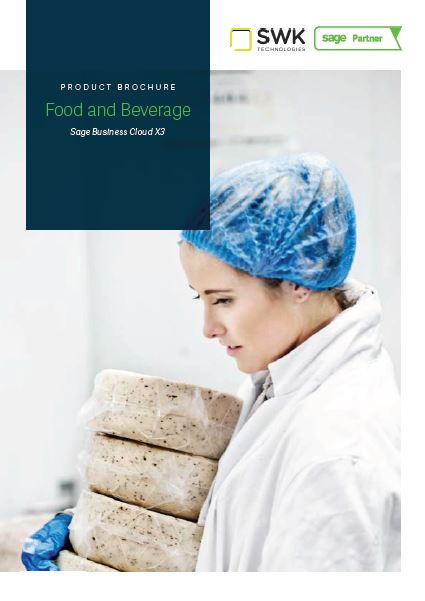 Discover Sage X3's Capabilities for Food & Beverage
Recipe & Formula Management
Preservation of ingredients and precise mixture processing must be ensured to be able to successfully deliver products to market. Sage X3 can accurately manage mixture conditions and yields to provide you with full end-to-end visibility of your production cycle.
Lot, Batch & Serial Tracking and Traceability
Sage X3 serves as a F&B inventory software and allows you to control processing, prevent accidental mixtures, and move products on-demand. Potentially hazardous materials can also be more easily identified and tracked down.
Regulatory Compliance
With Sage X3, regulatory requirements can be maintained and cross-checked to enable streamlined compliance with government mandates. The solution helps identify non-compliant products and enables you to accurately label packages as required by law, including for potentially hazardous items.
Quality Assurance & Food Safety
Sage X3 increases supply chain visibility, traceability, and food safety by helping food & beverage businesses maintain product quality and identify tainted inventory more quickly. It will track ingredient and product conditions from procurement to distribution, enabling supply chains to react quickly in the event of a food recall.
Material Planning
Sage X3 will monitor current inventories, analyze past trends, and help you forecast for future demand to aid in determining ROI.
Food & Beverage Sub-Sectors Supported by Sage X3
DAIRY
CONFECTIONARY
NON-ALCOHOLIC BEVERAGES
OILS, SEASONINGS AND DRESSINGS
SNACK FOODS
FRUIT & VEGETABLES
Ready to Learn More? Request a Free Consultation
HOW CAN SWK TECHNOLOGIES HELP YOU?

SWK Technologies is a business application and consulting company providing strategies and solutions to meet our clients' information and business management needs. We make technology work for you, and provide the experience and expertise to get the job done by working with both your needs and the business management software that actually support your ways of doing business.