DISCOVER 5 FORCES RESHAPING THE ROLE OF THE CFO
Experts predict that most accounting and auditing activities will be automated by 2035. For CFOs, the changes start now.
Read the white paper to learn how the role of the CFO is already transforming, and to discover how you can stay ahead of the pace of change.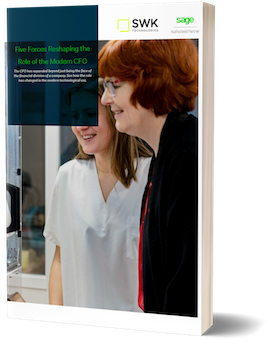 Savvy CFOs must start planning to take control of their future, starting now, which requires completely rethinking the role of the CFO.
This white paper offers recommendations for how next-gen CFOs can stay ahead of the curve and clearly identifies:
In our fast-paced modern business landscape, it's important that CFOs stay agile, savvy, and forward looking, using appropriate technology solutions that help them stay ahead. Solutions such as Sage X3 can help guide modern manufacturers and distributors to lasting success, but the CFO is in charge of driving true transformation.
Download the white paper now, so you can start reshaping your role today.
Fill out the form to discover the 5 Forces Shaping the Role of the CFO!
HOW CAN WE HELP YOU?
SWK Technologies is a business application and consulting company providing strategies and solutions to meet our clients' information and business management needs. We make technology work for you, and provide the experience and expertise to get the job done by working with both your needs and the business management software that actually support your ways of doing business.