Avoid the ERP "Bad Guys" and Find the Ideal Partner
A true ERP partner delivers a great system and remains committed to your success throughout your relationship. An ERP predator on the other hand, will set unreasonable policies, grab as much of your money as possible, and fight you if you try to stand up for yourself.
That's why your ERP selection process must consider more than functionality—it must also focus on your partner relationship.
How can you tell a partner from a predator? Find out in a new white paper.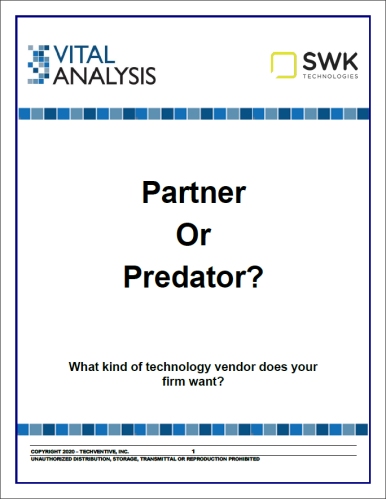 In "Partner or Predator?" you'll learn:
Choosing a new ERP vendor is often a 10-year commitment, so don't go into it blindly.
Download your free copy of this white paper today.
Fill out the form to download the Partner or Predator? White Paper
HOW CAN WE HELP YOU?
SWK Technologies is a business application and consulting company providing strategies and solutions to meet our clients' information and business management needs. We make technology work for you, and provide the experience and expertise to get the job done by working with both your needs and the business management software that actually support your ways of doing business.