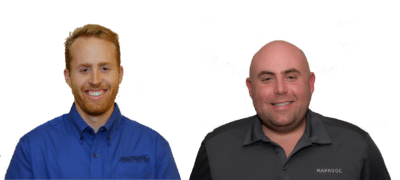 Experience the Benefits of Seamlessly Integrating EDI and Enterprise Management at Sage Summit 2017
MAPADOC team members Bill Gaustad and David Gottesfeld will be holding a session at Sage Summit on integrating EDI and Enterprise Management (formerly known as Sage X3). Bill heads up the MAPADOC sales and business development and is expert at the many different EDI ever-changing requirements from the supplier, vendor and customer perspectives. David has been in the tech industry for over 15 years and has extensive EDI experience. He is currently the Consulting Manager at MAPADOC specializing in enterprise EDI implementations for Sage 500 and Enterprise Management.
The session will focus on MAPADOC EDI for Enterprise Management as a fully integrated EDI solution that provides embedded integration between retailers/suppliers and Enterprise Management, eliminating the need for duplicate data entry of EDI documents. In this session, the MAPADOC team will show you how MAPADOC can automate your EDI processes, saving you time, money and eliminating errors caused by double entry.
The session ID is AL-720 and will be held on Wednesday, May 10, 2017 from 4:45 PM to 05:30 PM. Register here using our code and attend Sage Summit for only $99.
For more information on MAPADOC EDI for Enterprise Management, click here.