THE RIGHT ERP FOR FOOD AND BEVERAGE MANUFACTURERS
Ready for a system that handles every step of food and beverage manufacturing?
Read the eBook to learn what you can expect when you have the right ERP for food and beverage manufacturing.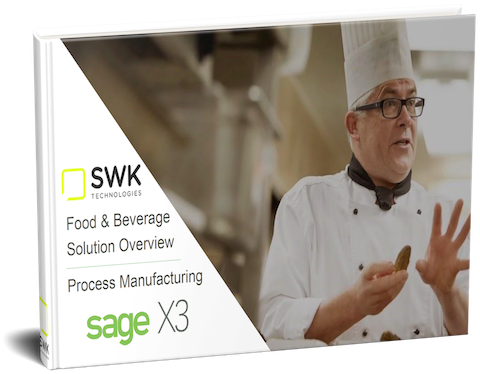 Modern F&B Manufacturers spend too much time worrying about potential recalls, global compliance mandates, and end-to-end traceability – and with good reason.
If your manufacturing company makes a mistake in any of these steps, you could be facing damaging and costly repercussions. But all that worrying may be reducing your productivity, which costs you big in a different way.
Stop worrying and get confident with the SWK Food & Beverage Solution. This full-featured system for F&B manufacturers offers:
You work hard to ensure that your customers have confidence in your brand and quality; you deserve to have the same confidence in your ERP for food and beverage manufacturing. Download the eBook to learn more about the SWK Food & Beverage Solution.
Fill out the form to download the eBook that explains ERP for Food & Beverage Manufacturers!
HOW CAN WE HELP YOU?
SWK Technologies is a business application and consulting company providing strategies and solutions to meet our clients' information and business management needs. We make technology work for you, and provide the experience and expertise to get the job done by working with both your needs and the business management software that actually support your ways of doing business.