WHERE WILL THE PROCESS MANUFACTURING INDUSTRY GO NEXT?
Access the insider's view on where the process manufacturing industry is now, and where it's headed.  
More than 900 process manufacturers share their uncensored views on business strategy, access to talent, tech adoption, and the future of the manufacturing industry in this must-read report.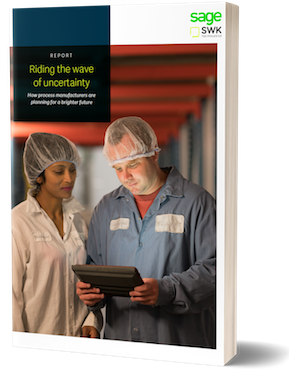 This in-depth report asked 900+ process manufacturers to weigh in on where the industry stands now and where it's going in the future. See how your peers view:
.
From the US to the UK and Canada, your manufacturing peers and competitors are overcoming modern challenges, disruptions, and obstacles, and maintaining confidence in a rapidly shifting landscape.
To learn more about how manufacturers like you view their path forward in today's uncertain business landscape, download the free report.
Fill out the form to download the Riding the Wave of Uncertainty process manufacturing report!
HOW CAN WE HELP YOU?
SWK Technologies is a business application and consulting company providing strategies and solutions to meet our clients' information and business management needs. We make technology work for you, and provide the experience and expertise to get the job done by working with both your needs and the business management software that actually support your ways of doing business.