SOLVE 5 TOP WHOLESALE DISTRIBUTION CHALLENGES NOW
"One powerful reporting engine has replaced eight separate programs."
Read the brief to discover how leading companies are solving their wholesale distribution challenges by investing in their future with Sage X3.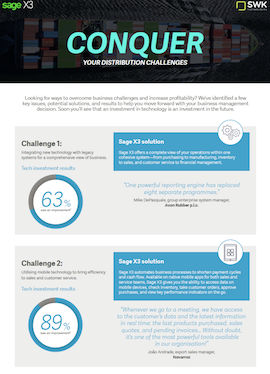 Squeezed by ever-tightening margins, today's small to midsized companies must solve their wholesale distribution challenges with innovative tools.
Learn why Sage X3 is the right choice to solve modern challenges.
An IDG research study found that distributors saw massive improvements in the following areas when using Sage X3:
In today's evolving business landscape, your company deserves to start seeing results like these. Download the brief to learn how you can conquer your distribution challenges with Sage X3.
Fill out the form to learn how you can Conquer Your Wholesale Distribution Challenges!
HOW CAN WE HELP YOU?
SWK Technologies is a business application and consulting company providing strategies and solutions to meet our clients' information and business management needs. We make technology work for you, and provide the experience and expertise to get the job done by working with both your needs and the business management software that actually support your ways of doing business.